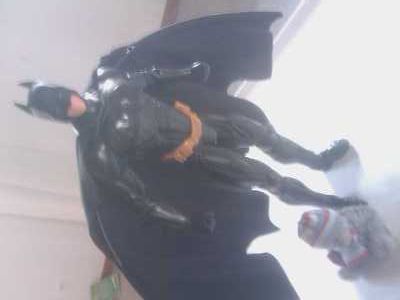 Oh yes. He's Barbie sized
Guess who got itself the most cool toy ever.
Ohohoho, yes, that's me. This is why I love garagesales XD
Batman is most fave actionhero
EBARH!
Any gays! Me and
Lovemustachebuddy
have again spend some days together, and we made some more
Love Mustache
skits, and finally uploaded some aswell!
SO GO CHECK US OUT
We still need to upload alot of skits, but we're not going to give you everything just yet,
ufufufufu
Genki is still oncoming, so I have more cosplaytalk ~
Me and
Zuumiezuumzuumed
are also planning to make a cosplay together Ö
Like a real one!
This pleases my inner social nerd
XD
We're going to do Halloween Town Sora and Riku. And
surprise surprise!
I'm gonna be Riku Ö
a manly man
! omigosh XD Did I realize this before I agreed? Nope, but I'mma do it anyhow!
And we've already sorta planned out the outfit for Riku entirely, Since it doesn't exist XD
Gotta turn this, to that ->
No problem right? .... ^^;